Are improved workplace safety, streamlined compliance and a modern occupant experience on your company's wish list this year?
An effective visitor management app might be just the answer to your wishes.
A visitor management app helps you verify the identity of every person who comes to your office or company building. It helps you identify everyone whom you welcome to your company space and enables you to keep track of everyone you've given access to your office, your information, and even your Wi-Fi network.
The best thing about these apps is that even if your policies, business, industry, or location vary, you can tweak and scale them to suit your needs.
Here are three of the best visitor management apps you need to check if you want to supercharge your company's visitor management.
Sine offers businesses an effortless front desk check-in experience to their visitors. With Sine, you can manage visitors, monitor time and attendance, and improve your overall safety across your operations and facilities.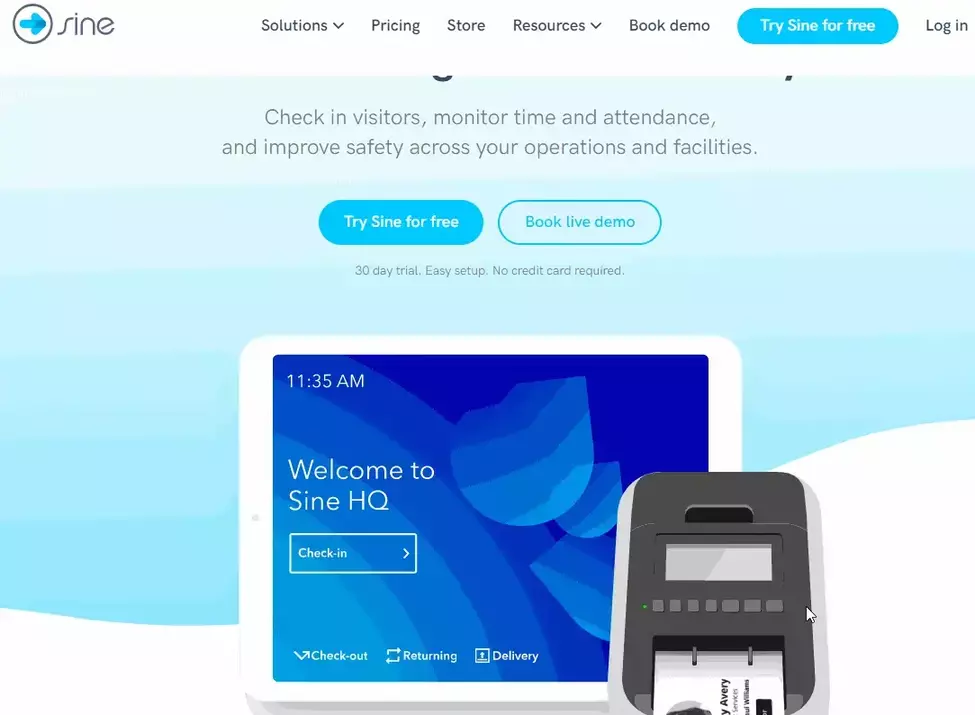 Sine's landing page
What's Sine's best feature?
Without a doubt, Sine's geofencing capabilities that allow visitors to check in before reaching your company's building. With the help of Sine's geofencing, you can choose to accept or reject visitors, which gives you more control over your permits and allows you to check who's really on site.
What's good about Sine?
User friendly
Powerful reports
Customizable to suit company branding
Traction Guest provides visitors with an efficient and secure visitor management system at both workplaces and events. This visitor management app helps you verify identities, screen visitors, and monitor visitor history in real time.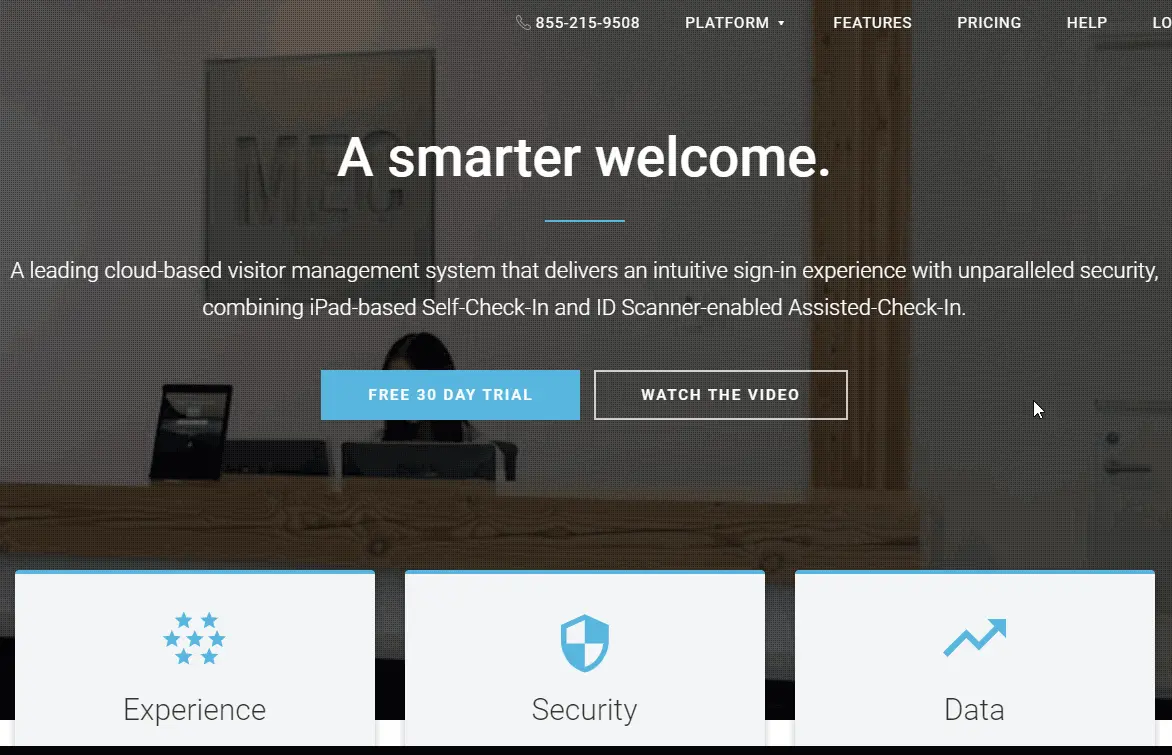 Traction Guest home page
What's Traction Guest's best feature?
One of the best things about Traction Guest is its compliance. This visitor management system is compliant with the ITAR, GDPR, C-TPAT, and the FSMA, which makes it particularly well-suited for users whose companies handle sensitive data.
What's good about Traction Guest?
Easy setup
Clean interface
Great customer reps
Proxyclick helps businesses manage their visitors by connecting their existing systems for access control, visitor management, and meeting room management. Proxyclick wants its users to ditch paper and embrace digital visitor management.
Proxyclick home page
What's Proxyclick's best feature?
Proxyclick's best feature is its push notification service that sends you messages when something important is happening in your building such as when a visitor has come in to look for you. This expedites your visitor's stay and helps save time.
What's good about Proxyclick?
Multi-language
Easy to customize
Plenty of integrations available
If you need more information about any of these three apps and you want to compare them further, check this comparison from GetApp:
Take a look at this comparison from GetApp
Why Sine is the Best Visitor Management System
Sine can help you gain real-time visibility over all contractors working on-site and maintain a more secure facility.
We're probably biased but we think our cloud-based visitor management is ideal for small, midsize and large businesses in an array of different industries and use cases (So do hundreds of other people). Not only do we offer visitor registration, automatic notifications, badge printing, reporting and analytics, but also 24-hour global support with real people.
Here are a few more reasons Sine is the best visitor management system:
Fast smartphone check-in
Sine simplifies the check-in process for your visitors and provides additional efficiencies for return visitors. They can skip the queue with fast track and facial recognition. You can geofence your worksite for automatic check-in. Plus, Sine delivers instant notifications so your staff can easily accept and reject visitors.
Convenient mobile app
Our mobile app is available for all Android and iOS devices. It provides QR code check-in, check-out reminders, visitor verification and mobile printing features. Sine also offers seamless integration with Outlook, iCal and Google.
Top-notch support
If you need help, we're here for you – with support available through email, phone, video tutorial, FAQs and a knowledge base — so you can get up and running with as little hassle as possible.
Customization and options
You need a solution that can scale with your business.
Sine's cloud-based software is ideal for managing multiple entrances and adjusting for surges in visitor traffic. Adding a check-in station — and doubling check-in capacity — is as simple as investing in one more iPad and stand.
Emergency notifications
Sine lets you know how many people you have on-site every day so in case of an emergency you can contact each contractor, visitor or customer and let them know about any safety issues.
Powerful web dashboard
Our intuitive dashboard lets you manage, track and analyse your data to help your teams work smarter, not harder.
Automate compliance processes & keep records of permits and licenses
Not only can you automate check-in, but our system also notifies visitors when required licenses and permits are set to expire. This ensures everyone on your site has all their compliance obligations sorted whenever they step on site.
User-friendly interface
Our fully featured reception software is easy to use and very accessible. It's simple to set up and deploy. The back end admin functionality is very user friendly. It's likely your guests will compliment you on how your system looks and ease of use. Because Sine is so easy to implement and manage, it saves your staff time and energy managing guests.
Site-specific inductions
Use our curated check-in forms with pre-screening questions to enable a much faster, more efficient way to induct visitors. Easily share emergency procedures, safety regulations, and site-specific introductory information using our site induction feature.
Easy onboarding process
You'll be up and running in no time with our smooth and simple onboarding process with support from Sine. We have straightforward pricing with plans to suit any company's situation
Give yourself the gift of excellent Visitor Management
Visitor management systems make your sign-in process more efficient. They also give you the ability to store visitor information in a central database.
If you're ready to improve safety, security, and compliance for your visitors, contractors, staff, and assets, Sine may be the visitor and contractor management solution you're looking for.
Book a free demo with the Sine team today!