What will the future office look like? Some answers are clear, however, some are not. Hybrid work will most likely be here to stay, offices will probably be consumed flexibly, and there is a greater need for work life balance. In this blog post, we delve into some other aspects of what the future office may look like and any challenges it may encounter. We also offer a variety of solutions to help you kickstart the future of work!
Challenge: Creating an environmentally conscious office
Paperless office practices are becoming widely more adapted across the globe. It's clear that the paperless office is most likely here to stay and will probably only become more prevalent in years to come; here's why:
Sine's solution: Digital visitor badges
No matter how you choose to use Sine in your workplace, we can help you transition into a paperless office. Sine offers an extensive list of contactless features and solutions, which can help you ditch old-fashioned paper-based practices. For example, our digital visitor badges are a much more environmentally friendly solution than printed visitor badges. With the Sine Pro mobile app, you can implement an entirely digital badge solution. The app enables visitors to check-in through their mobile device, which will generate a visitor badge on their phone. They can be shown throughout the site if they're asked to verify that they have checked in. No need to worry about your visitors misplacing or damaging their passes, as they will be in the convenient location of their mobile phone.
Challenge: Need for tighter security – digitally and physically
Hybrid work has its perks; it enables employees flexible working conditions and helps keep them covid safe, just to name a few. However, as fewer people are filling up your office building, this may leave room for unwanted visitors to slip through the cracks and gain unauthorized access into your workplace. Threats that continue to impact workplace security and are likely to remain a concern for a long time, namely:
Tailgating: Over 70% of those in workplaces believe they are vulnerable to security breaches via tailgating. Tailgating is a physical security breach whereby an authorized person can gain access into a building. This usually occurs when the offender discretely following behind someone with authorization to gain access into restricted areas.
Unattended devices: as employees return to the office, some may be used to leaving their laptop open as they are usually just home by themselves or among family members. This may enable unwanted guests to sweep by and look through your documents and steal confidential company data.
Working from home cybersecurity risks: Employees may be connected to an unsecured WIFI network and personal devices, which may not have the same security measures built into the company network.
Sine's solution: Access control
When it comes to future-proofing your workplace from security threats, Sine has your back. Sine's access control can help add another essential layer of security to your worksite. Access control is a great way to provide quick and convenient access to authorized workers. It also helps to prevent unauthorized people from gaining access to your workplace. Your visitors will be issued a personalized QR code to their mobile phones or emails, which they will scan upon entry to gain access to your worksite. The QR can be automatically deactivated after a specified time or upon check-out.
Sine integrates with a variety of access control platforms.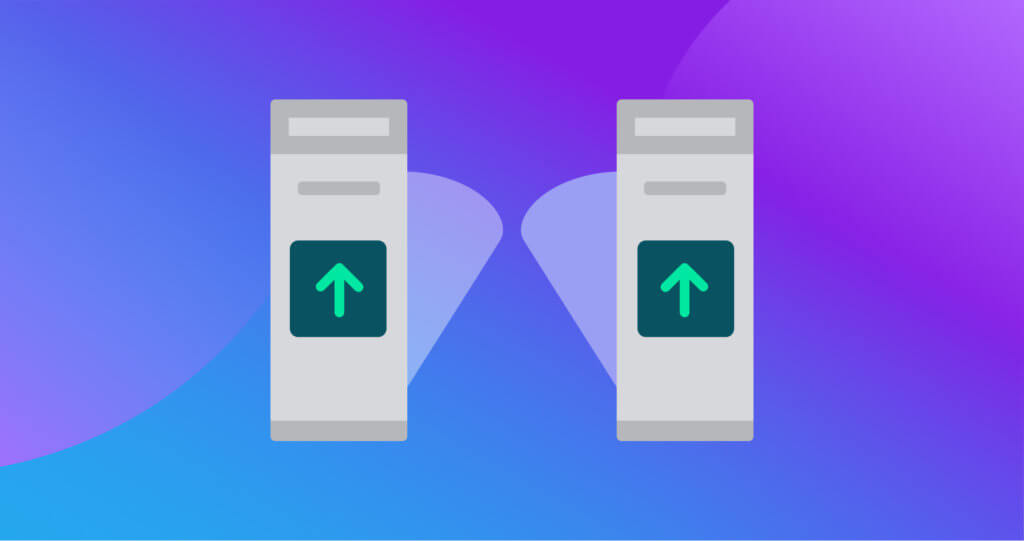 Challenge: Vaccine mandates
It seems like just yesterday we were first hearing about Covid-19 and the urgency of a vaccine to protect citizens and return to 'normal'. Now, over two years later, there is a light at the end of the tunnel. International travel is re-opening in Australia, restrictions have eased dramatically, music festivals are making a comeback and people are making their way back into the office. One thing that these all have in common, many businesses are urging, or even requiring, people to be vaccinated. According to a survey conducted by the World Economic Forum, almost 8 out of 10 of the world's workers would accept vaccine mandates to keep their jobs. The survey also discovered that 78% of employees are in favor of vaccine mandates in the workplace.
As many workplaces are looking for ways to incorporate vaccination statuses into their screening processes, Sine can help remove the hassle of collecting these documents and automate the approvals process. Sine can help make it simple when it comes to screening and verifying that people entering your site have been vaccinated. Sine Workflows is a powerful tool to pre-screen visitors and gain essential COVID-19 vaccine information. You can collect and upload immunization documents from your employees, visitors, or contractors before they check in. Take control over your site and approve or rejects visitors on a case-by-case basis or automatically by vaccination status.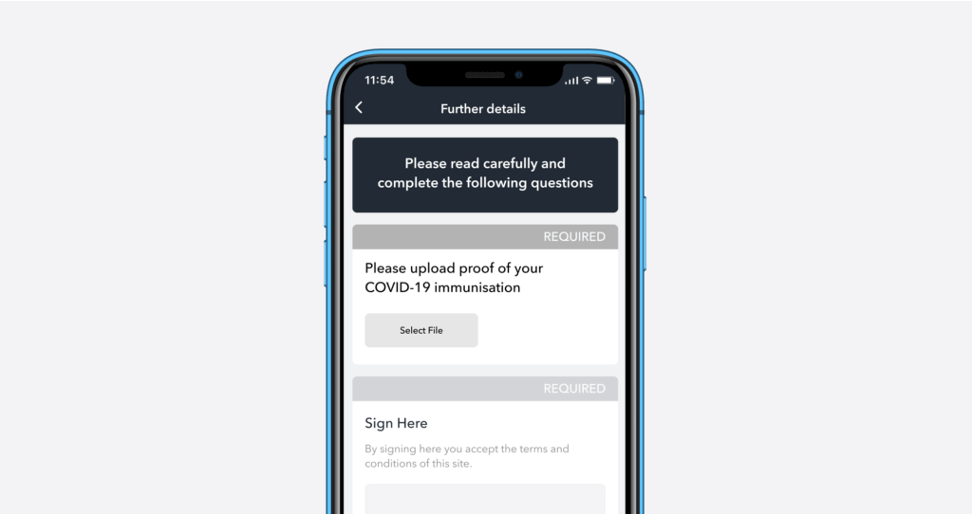 80% of leaders accelerated the implementation of new technologies during the COVID-19 pandemic. Technologies such as contact tracing, collaborative tools, and AI-driven software have been adopted to support employee mental health, adjust to hybrid work models, increase productivity, and enhance safety for customers and employees. Many of these growing trends reflect a greater need for touchless solutions to adhere to Covid-19 protocols.
Solution: Sine + Wi-Fi integrations
Stay connected and deliver touchless solutions to your visitors so they can stay connected too! Sine integrates with a variety of platforms to automate the process of issuing WI-FI passwords to your visitors. Integrations through Aruba ClearPass can enable secure WI-FI provisioning, keeping everyone connected from the moment they step into your site.
Aruba ClearPass: The Sine + Aruba ClearPass integration automatically provisions WI-FI usernames and passwords via SMS, email, or notification when a visitor checks in.
---
Ready to see how Sine can help prepare you and your office for the future? Book a free demo with our friendly team today to discover how we can streamline and simplify your workplace!