Managing contract workers on a job site requires preparation. This is especially true for organizations working on new construction, whether it's an office renovation or a new building site. Keeping track of extended staff means taking into account safety and liability issues.
When you set up your contractor management system to process new workers, it's important to know who they are, who they work for, and their responsibilities. In construction, that means understanding the key differences between general contractors and construction managers.
What is a general contractor?
When an organization hires a general contractor (GC), this means they have already finalized their project design and need someone to organize the labor. Business owners typically send out project specifications, and general contractors submit bids for the project. Their bids should cover the GC's own staff and supply budget, materials, and any procurement services they'll need to use. Jobs don't necessarily go to the lowest bidder but rather the most reasonably-priced bid considering the amount of work that needs to be done.
While on-site, the general contractor answers to the organization's owner or manager. However, a GC hires their subcontractors to carry out the labor, who are responsible for managing that staff. They're also responsible for abiding by the original bid price since they're technically paid in a lump sum that should cover their costs and secure a profit.
When GCs go over budget, the extra money typically comes out of the GC's sum and decreases their overall profit. While this may keep them from going over budget, they have an incentive to cut their own costs to secure a profit.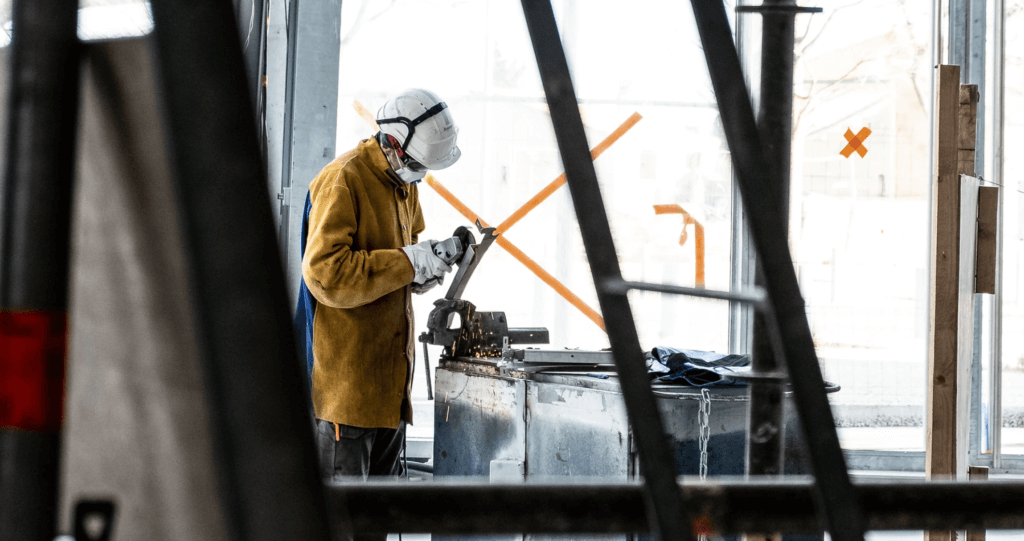 What is a construction manager?
A construction manager differs from a general contractor in that they are involved in construction projects from the very beginning. As temporary, extended members of a company's staff, they often assist in the design process and advise organizations about the costs and practicality of different building features. Their work is done in the pre-construction phase.
Construction managers are paid a fixed fee to help draw up plans and collaborate on how to get the project completed. This relationship is collaborative in nature, and the construction manager's fee is separate from the physical construction budget.
A construction manager's work is not done after the project is defined. The budget they help build is then used to hire subcontractors to perform the labor - and this may include a general contractor. However, there is more leeway with a construction manager. They can hire multiple subcontractors for different aspects of the project and act as the supervisor on the scene in the same way a general contractor would.
As construction proceeds, construction managers abide by the original budget as much as possible, but their fee is still essentially the same. They can even step back and reexamine parts of the project with the organization if plans change or problems emerge.
Understanding construction company hierarchy
When it comes to construction, it's essential to know how the hierarchy and its communication system work, even for companies that hire a construction manager to handle the project. This helps you keep your worksites transparent and safe.
Understanding construction company hierarchy can also help avoid contract disputes, with can be lengthy, expensive, and hold up construction projects. In 2019 in North America, the average length of construction disputes was 17.6 months, and the average cost was $18.8 million. These disputes were most commonly caused by a contractor or subcontractor "failing to understand and/or comply" with a contractual obligation.
Considerations for companies with contractors and subcontractors on site
Whether hiring a construction manager or a general contractor, it's crucial that organizations be very clear regarding safety and liability and establish strict safety rules and guidelines for workers on their property. Around 20% of worker fatalities happened in the construction industry in 2018 and 2019. Falls, inadequate protective equipment, and a lack of safety warnings were at the top of the list of OSHA citations in 2021 in construction, meaning organizations need a system they can trust to protect workers, including subcontractors.
If your organization hires a construction manager, they typically act as a consultant, and the contractors and subcontractors they oversee may not have their own high-risk insurance coverage.
But when you hire a general contractor, the lump sum payment they receive generally covers insurance costs for their own employees and subcontractors. In any case, you will want an explicit statement detailing who is liable for any illnesses, injuries, or exposures construction workers may suffer on your property.
Maintaining compliance during construction projects
Organizations want to keep everyone on site as safe and healthy as possible, so it's often advisable to require any person on your property (regardless of who employs them) to check in via a contractor management system. With Sine, you can:
Welcome new, temporary workers to your site
Alert managers of their arrival
Remind them of safety requirements
Get a signature confirming they've read through site risks
Grant or limit their access to specific areas
Employ geofencing to monitor or restrict movements
Ensure subcontractors get the same emergency notifications as other workers in case of a weather alert or other emergency on site
In other words, a contractor management system is a great tool for meeting and exceeding your safety compliance needs.
In 2019, before the pandemic, the US construction industry was worth $1.3 trillion. While the industry saw a decrease in business from 2020-2021, as of June 2022, construction spending was estimated at a seasonally adjusted annual rate of $1,762.3 billion. As the industry continues to grow, it's crucial for organizations to build a culture of safety for everyone on their property. Whether you're managing construction projects or hiring someone else to oversee the process, using a contractor management system, such as Sine, can help you increase compliance and reduce risk.
To learn more about Sine's contractor management solutions, click here and download our free ebook.