Over the past few years, there's been a boom in the number of public events companies are running. They've realized that by running these events, they can boost brand awareness and position themselves as thought leaders. Which is more important than ever with the Digital Age in full swing and the competition it has brought.
While these events are generally free, companies still want to be able to control who attends. They don't want random gatecrashers there who have only come for the free food and alcohol.
So we've partnered with Eventbrite to make sure the people attending your event, should actually be there.
What is Eventbrite?
As explained on Eventbrite's website:
"Eventbrite is a global platform for live experiences that allows anyone to create, share, find and attend events that fuel their passions and enrich their lives. From music festivals, marathons, conferences, community rallies, and fundraisers, to gaming competitions and air guitar contests. Our mission is to bring the world together through live experiences."
It allows you to manage all of the attendance side of the events you're hosting. Including ticketing, marketing, and attendee lists.
How you can use Eventbrite with Sine
Sine is a visitor and contractor management software for businesses small and large, that captures and records staff, visitor and guest check-ins.
For each event in Eventbrite, attendees get a ticket for registration. Eventbrite automatically collects the attendee's name, email, and phone number.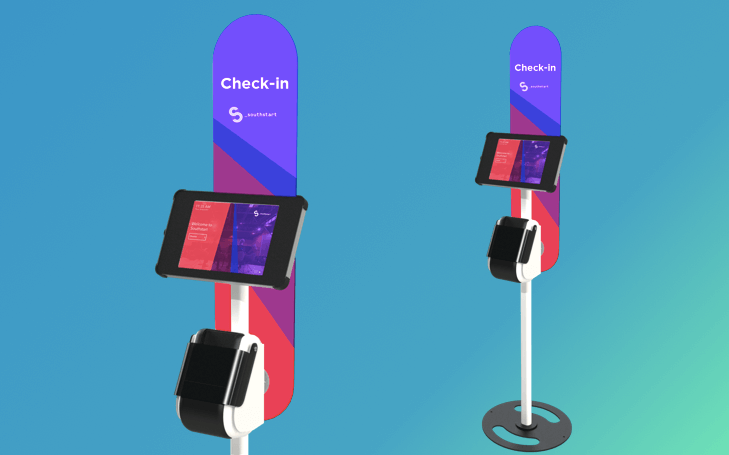 With this information, you can use Sine's all-in-one Visitor Kiosk to check-in event attendees.
Your new streamlined event check-in process
Sifting through hundreds of event registrations is time-consuming and destroys the flow of your event. Not to mention the risk of receiving negative feedback with long and unorganized queues. With the Eventbrite integration, you eliminate that risk and streamline your check-in process.
Here's how it works.
You must have an Eventbrite account for the integration to work.
1. The attendee registers for an event through Eventbrite
Through Eventbrite, you will set up the event by following the prompts and entering the correct information. Once the event is set up people can register to attend your event.
2. The attendee receives a QR code
Upon registering the attendee will receive a QR code through the Eventbrite app and via email. They will also receive information about the event and further instructions.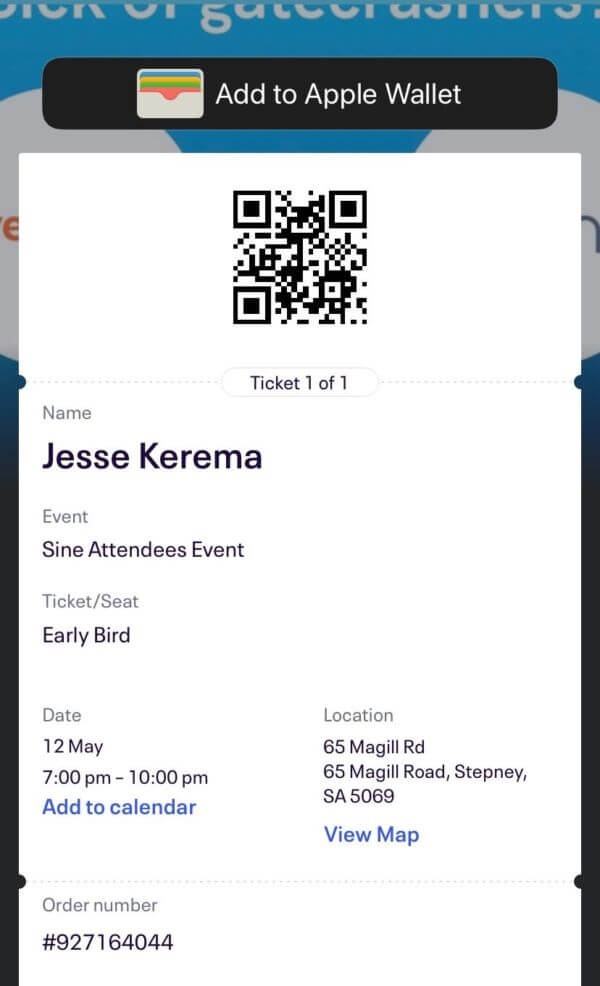 3. Personalized event branding is shown on the iPad at the all-in-one visitor kiosk.
When attendees check-in to your event they will see your event's personalized branding on the home screen. Making sure the all-in0ne visitor kiosk fits right in.
4. At the event, the attendee shows the QR code at the all-in-one Visitor Kiosk
After they've done this Sine's API talks to Eventbrite to check their ticket and ensure they've registered. Attendees will also have the option to enter the ticket code if they've lost their QR code.
5. The Attendee's badge is printed and they are allowed into the event
The attendee is approved and their badge is printed automatically from the Kiosk. Sine also offers branded lanyards with custom labels for an additional cost.
Additional features
Mobile event check-in
Attendees can check-in to your events via their mobile and redeem their Eventbrite ticket with instant badge printing.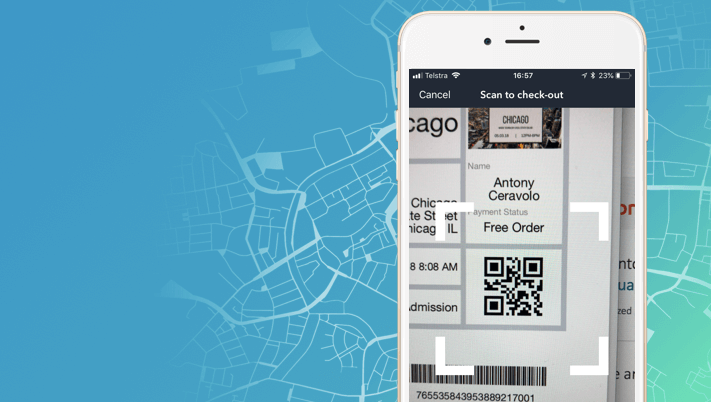 Live messages in one click
Send all event attendees instant messages via email, push notification or SMS. Saving you countless hours