The Australian Government has announced new requirements for those in the aged care sector as part of its latest updates to the vaccine rollout in Australia. These changes include new requirements for aged care workers in Australia to be vaccinated against COVID-19.
What are the new requirements for aged care workers?
The Government has mandated that all aged care workers must have their first dose of a COVID-19 vaccine by mid-September. These requirements come off the back of recent figures that show two-thirds of Australian aged-care workers are yet to receive their first dose—of 263,000 workers, just over 88,000 (33.6%) had received their first shot and about 43,000 (16.3%) had received both doses.
As part of these requirements, aged-care providers must provided weekly reporting to the Government about the status of their workforce's adherence with this. The new reporting means that providers must supply de-identified data to show:
the total number of workers at each aged care service and, of those,
the number of workers at each service who have received a single dose of a COVID-19 vaccine; and
the number of workers at each service level of who have received all required doses of a COVID-19 vaccine.
Introducing the Sine VacPack solution
For facilities looking to stay on top of these requirements, and manage their reporting and compliance obligations, we are pleased to offer the Sine VacPack.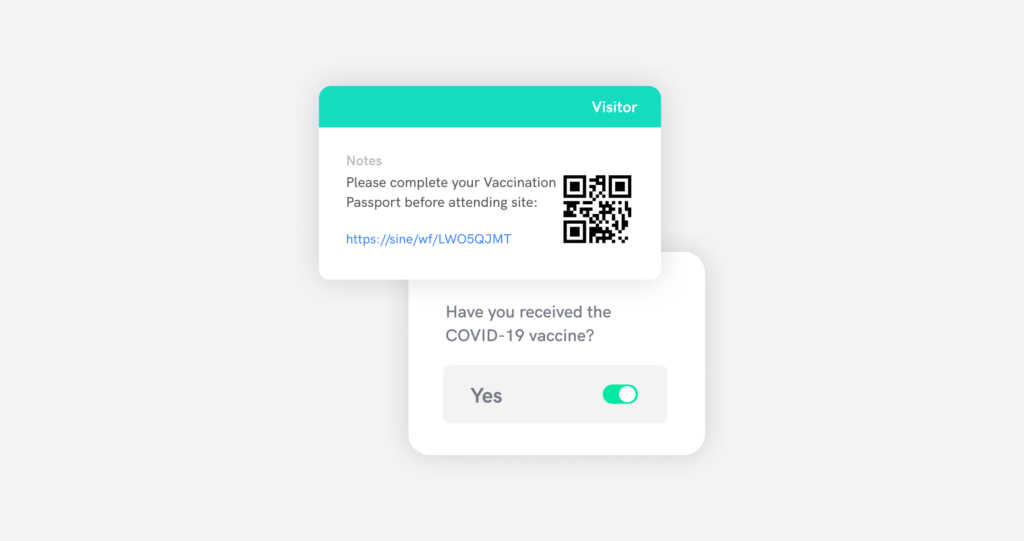 Automating the collection of responses to your vaccination register
Sine Workflows make it simple to manage your vaccination register, here's how it's done.
Workflows are simple to create and get started with, or you can speak to your Sine account manager about getting one created for you.
With Workflows, you can collect information about the employees' vaccination status—either one dose, no doses or fully vaccinated. If hard regulations blocking employees working in aged care without being fully vaccinated do eventuate, you can then use the status of these responses to block anyone trying to check into your facility without being fully vaccinated.
Optional proof of vaccinations
Requirements will vary across regions, however, should an employer require proof of vaccination, you can easily include the option to upload this documentation as part of your workflow.
Monitor vaccination statuses with tags
Quick tags give you the ability to quickly and visually flag Workflow responses, making it simple to spot like responses and identify the vaccination status of your workforce. Setting up tags will aid in the reporting process as you monitor and provide your weekly reporting.
A solution for your situation
Our team are experts at solving challenges in the workplace. We thrive on working together with our clients to find a solution that meets the unique requirements of every operation.
Book a call with our team today, to see how we can help you manage your COVID-19 vaccination reporting requirements for your aged care facility.