Clear communication is important in all aspects of life, both personal and professional. But for many commercial operations, from construction and education campuses to health and aged care facilities, there is elevated importance that needs to be placed on clear, on-time communication.
When you start to mix high-risk works, with contractors and a revolving door of guests, these large scale operations can begin to find it difficult to ensure everyone is receiving the right information at the right time.
Fortunately, Sine offers a range of different features that enable you to take control of communication at your site.
Direct messaging in the activity feed
As an administrator for a Sine account, it is quick and easy to send a direct message. These can go to someone who is currently checked-in or has been in the past—this can be done directly from the activity feed.
Simply locate the person you want to message and select 'Send message'.
When you are messaging, you will always have the option of marking your message as a 'Warning' or 'Emergency' notification. Selecting these will change the appearance of your message. In turn, helping to effectively and clearly communicate your message in these high importance situations.
So, what does your message look like to a user?
There are three different ways your recipient can receive their message.
Email and SMS
Users will receive your message as an SMS or email, depending on the details provided at check-in. You can see an example of these messages below.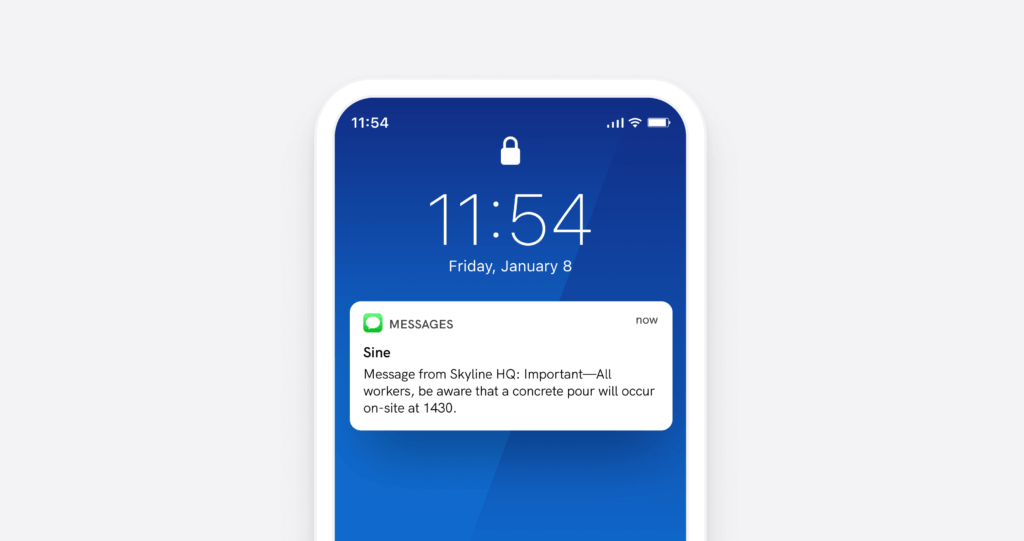 Sine Pro mobile app
If your user has the Sine Pro mobile app installed, they will also receive your message directly in the app. When users receive a message through Sine Pro, they will have the added visual messaging elements for warning and emergency messages.
Sitewide messaging
Sine also gives you the ability to push messages out across your site. You can access these options from the activity feed by clicking Messaging in the top navigation bar.
Once there, you will have the option to send your message to any combination of Visitors, Hosts or Displays. And just like direct messaging, you can mark your communication as a Message, Warning or Emergency.
Display messages make it easy to turn your iPad kiosk into a visual messaging system for your site. Particularly in warning and evacuation situations, you can turn your iPad kiosks into an essential notification system.
To send your message, just select your audience, the type of message and enter the content of your message. Then, just click Send Message to send your communication when you are ready.
Daily updates and pass links
If you are managing a site where the relevant information for visitors, staff and contractors is regularly changing, you might not want to be sending out messages constantly throughout the day. Or you might be dealing with information that is not mission-critical, but rather, just useful for those on-site—like the lunch menu in the cafeteria for that day.
This is where pass links give you a simple way to ensure the latest information is always at hand.
All you have to do is navigate to site settings, and add a field to the Visit Info for your passes. Add a link in here to your content, and your link will be included in the Sine Pro app when your visitor checks into the site.
Get your team up to speed today
Communication is crucial—and for many workplaces, there's no margin for error. Our team are experts at partnering with workplaces to streamline and optimise their workplace management systems, empowering essential, timely communication.
Book a demo today to see how Sine can transform communication in your workplace.