With Sine Core and Sine Workflows working together, you can maintain powerful control over permits to work across one site or an entire portfolio of sites.
Control the entire lifecycle of a Permit to Work by allowing contractors to apply for permits prior to arriving at site, monitoring their on-site activity and closing permits once work has been completed.
How to create permits to work with Sine Workflows

A step-by-step guide to creating a permit to work with Sine Workflows
Step 1 - Submit workflow
Set up a workflow for the permit application to be completed by the contractors undertaking the work.
The contractor can set the start date, type of work, duration, and sites where the work will be undertaken. You can even ask the contractor to upload all necessary licenses and ancillary documents to support the permit to work.
Pro tip: Set up a "Permits Landing Page" and consolidate all your permits to work on one easy to find the website.
Step 2 - Approve permit
Once a permit to work is submitted by the contractor, the site team can then review and accept or reject the permit application based on the content submitted.
Once approved, your contractor will be notified of the decision and are then they will be all set to enter the site to undertake the works. Only approved contractors that have completed a permit to work will be permitted to check-in.
Step 3 - Check-in
Now with a valid permit, your contractor is required to complete forms at check-in which are sent to the site team for approval prior to commencing work.

Once approved by the site team, your contractor will again be notified by SMS, email or push notification and can begin work at the site.

The contractor will be highly visible and tagged on the Sine activity feed, and site admins can monitor and SMS contractors to stay in close contact.
Pro tip: Split out all permits to work/ special permits into a standalone visitor type called "Special Permits".
Step 4 - Check-out
Once the work is completed, the contractor will then check out of the site and will be required to complete a set of check-out forms.

These check-out forms will ask the contractor to confirm if the works are completely finished or if the contractor will return to complete the works.
Step 5 - Close permit
The site team will receive the full payload of check-out forms for review. If the work is complete, they will be redirected back to Sine Workflows to close the original workflow and add any notes.

If the contractor has indicated that the work is not complete in the check-out forms, the site admin will not close the Sine Workflow.
Unlock the power of Workflows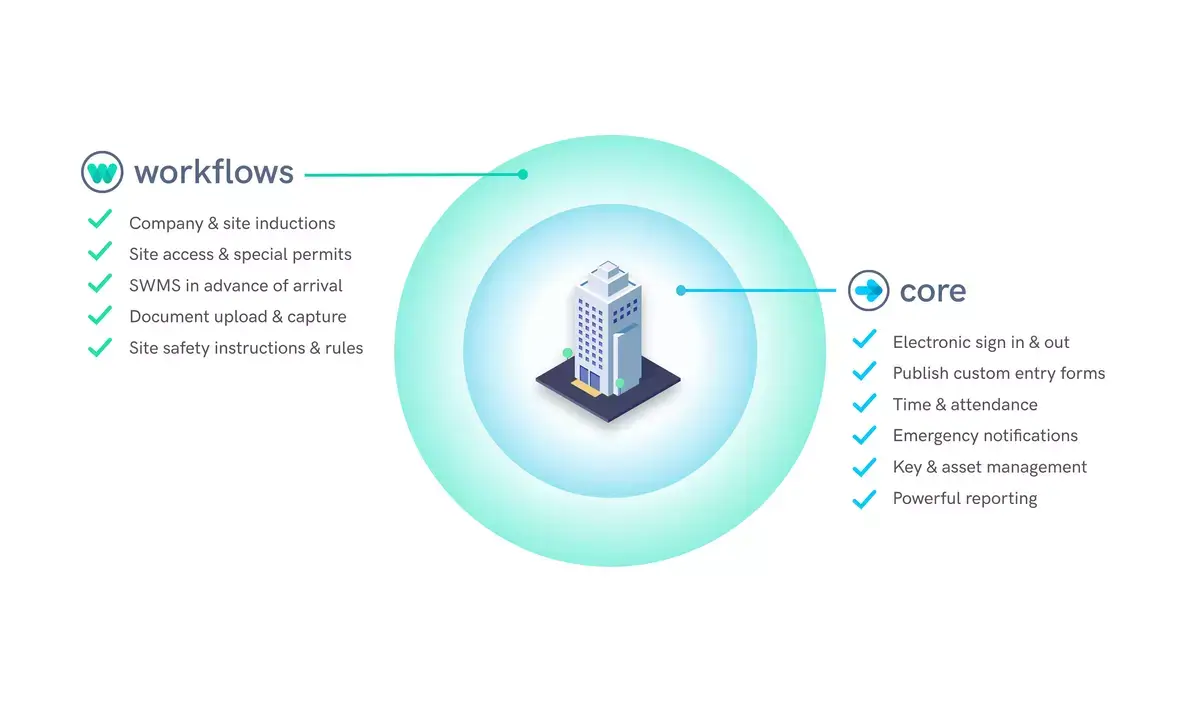 With the power of Sine Workflows integrated with Sine Core, you'll be activating a completely digital workplace.
Sine Core allows you to manage everything that comes through your workplace doors from one easy-to-use dashboard. Regardless, of whether the site is manned or unmanned. Then, by integrating Sine Workflows, you'll be unlocking a complete 360-degree workplace solution. That can manage contractors and visitors from before the work starts to when it's complete.
Safer, smarter workplaces start with Sine
Let's chat about your needs and how we can help.
Request demo