A logbook is a system that workplaces put in place to keep a record of everyone who comes in and out of a facility. Logbooks can take on various forms, but two of the most common ones are paper logbooks and digital logbooks.
If you are still using a paper-based visitor logbook, now is the time to go digital to be able to keep track of who comes into your workplace, when they are coming, why they are coming, and who are they meeting with. Powered by a visitor management system, digital visitor logbooks may offer a wide variety of benefits over traditional paper-based logbooks.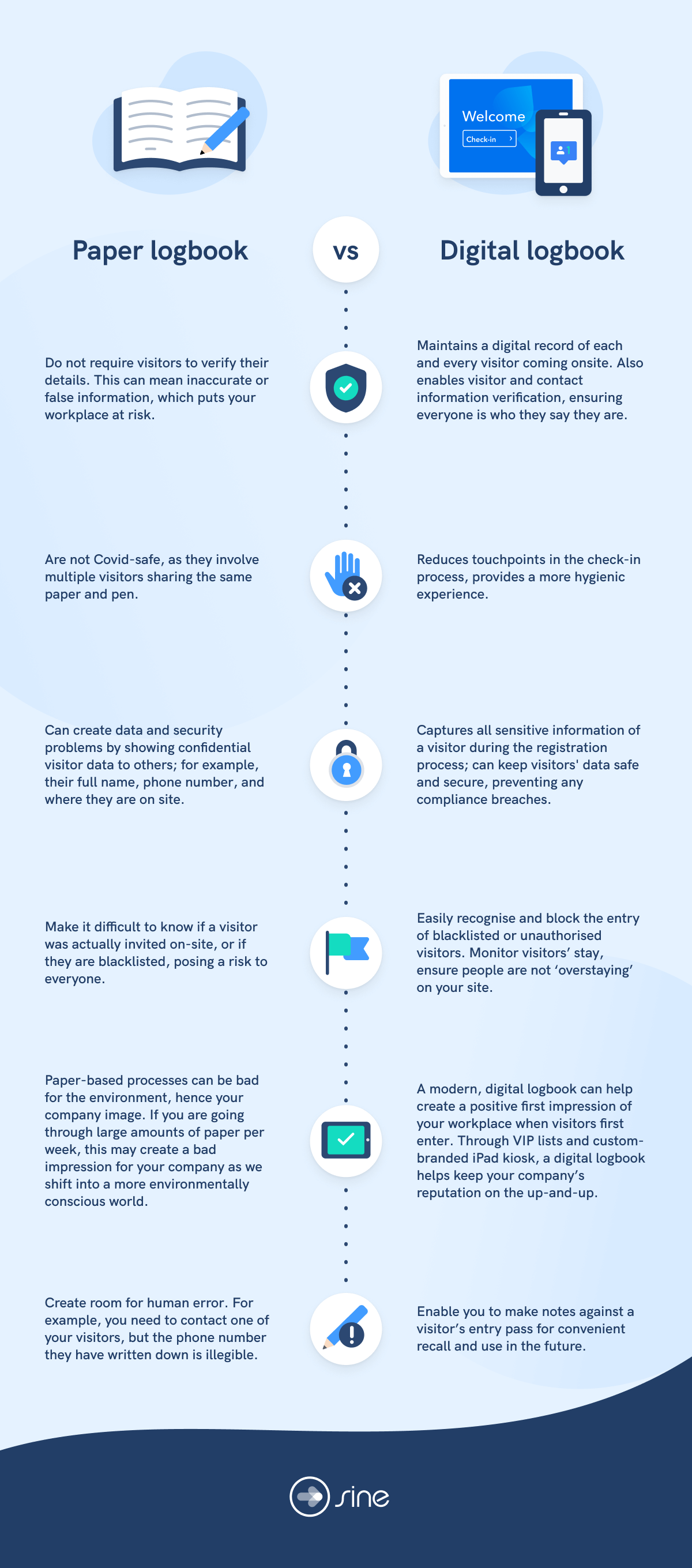 Why you should consider switching to a digital logbook
These days, businesses are moving their data to cloud-based visitor logs to ensure the safety of their staff and visitors. But more importantly, this migration can help streamline their sign-in processes and enhance productivity in the workplace.
Here are several ways digital logbooks can help your business:
Going contactless in the wake of COVID-19
A PwC survey revealed that 35% of the employee want their supervisor to inform them about any such exposure to COVID-19. A digital visitor logbook can help you gather the information needed to keep track of any possible vulnerabilities in the workplace.
Before the COVID-19 outbreak, you wouldn't have given a second thought about taking food deliveries, greeting guests, or checking packages at the front desk. But these activities may involve proximity and physical contact with unknown individuals, and it can no longer be safe to practice these carelessly.
This situation necessitates instant touchless check-ins so that guests can be registered before they ever set foot on the premises. Then your digital visitor management system can email them the pertinent information such as QR code for check-in and any screening questions or site procedures .
And when they arrive, they can easily check-in via a QR scan. Visitors then receive a digital badge that's their ticket to walk in – no long queues by the register to sign your name!
A digital visitor management system can help you to track the contact information of anyone who enters the facility. That way, you can know who to communicate with in case of exposure to COVID-19.
Ensuring data privacy
Easy access to guest data may mean that anyone can see it and possibly misuse it, leading to privacy breaches.
Furthermore, a traditional visitor logbook can possibly reveal the information about the companies and contractors you have had a meeting with, which again, may comes under violation of data.
These improper arrangements to protect info may leave a wrong impression on the visitors, possibly making them reluctant to share their sensitive information. As a result, they may become sceptical about your company's reputation and credibility.
On the other hand, a visitor management system helps ensures visitors' data confidentiality and protects it from illicit users in the best way possible.
Mitigating security threats
With digital logbooks, it can become easier to protect the people, processes and property that your business values.
Besides, with a streamlined digital badge system, it may become easier to identify unwelcome visitors.
When someone arrives at your premises, proves their identity, and has an email appointment, they get a digital badge featuring their credentials and the host's name. They'll have to keep it on their person while they are in the building.
Anyone without a badge can be identified as an unwelcome visitor and treated as a possible threat.
This way, a digital logbook may also augment facial recognition, ID scanning and watch lists security features you may have in the workplace.
Considering environmental factors
Paper logbooks aren't just inefficient, but they could possibly leave a bad impression on your environmentally-conscious guests.
A large building with many entrances will likely go through several paper books and registers over a week. These must be stored securely when they are full, so no unauthorized personnel gets access to them.
A paperless digital logbook doesn't have these problems as it helps lessen paper usage and wastage, ultimately helping to reduce the environmental impact of your business.
This way, your workplace can uses fewer resources that can be a threat to the environment.
Securing of data
Many organizations regularly audit their facilities for IT controls and related processes. With a digital logbook, it can becomes easier to get the necessary documentation and know exactly who goes where in the building.
The clunky paper logbooks may get lost or misplaced, which means you can't depend on signing in entry books for long.
Managers may be more cautious than ever of privacy breaches, including any issues that may arise at the front desk. With a digital logbook, all such concerns can be reduced as anyone who enters the facility or specific areas is appropriately documented with verification and authentication.
Ready to make the switch to a digital visitor logbook?
It is critical for businesses to rethink their visitor management needs and implement a dependable solution to protect employee and visitor safety, improve efficiency, and leave a good impression on your guests.
Sine offers a digital logbook that allows for touchless check-ins, letting you customize the people flow management to meet your unique business needs. 
With Sine's digital visitor logbook in place, you don't have to worry about data security as it guards all your critical information in the cloud and maintains the visitor's privacy.
Ready to switch to a digital logbook that mitigates your visitors' safety concerns? Book a demo with our team today!