Keep your workplace clean and stop the spread of COVID-19 at the front desk with Sine's new Hand Sanitiser Stations.
Sine has announced the addition of Hand Sanitiser Stations to the All-in-One kiosk and the All-in-One Mini Kiosk, which are available from Sine's hardware store. The addition comes from the growing need to create a highly sanitised, contactless visitor management solution.
Sine has been working hard to create the best solution that allows for a fully contactless check-in solution using QR codes and geofencing. While also giving businesses the ability to prescreen everyone who visits their workplace before they even arrive on site.
Now, when a person enters the workplace and after they scan their QR code, they will be prompted during check-in to sanitise their hands using the Hand Sanitiser Stations attached to the check-in device.
Sine has also introduced the option of wall-mounted Hand Sanitiser Stations, allowing businesses to place hand sanitiser at high-traffic areas like a kitchen or any access points.
Two options to suit your needs
We know that not every reception area is the same and some businesses may opt to keep their front desk area as clean as possible.
With this in mind, Sine has introduced two options for their Hand Sanitiser Stations.
The All-in-One Kiosk Hand Sanitiser Station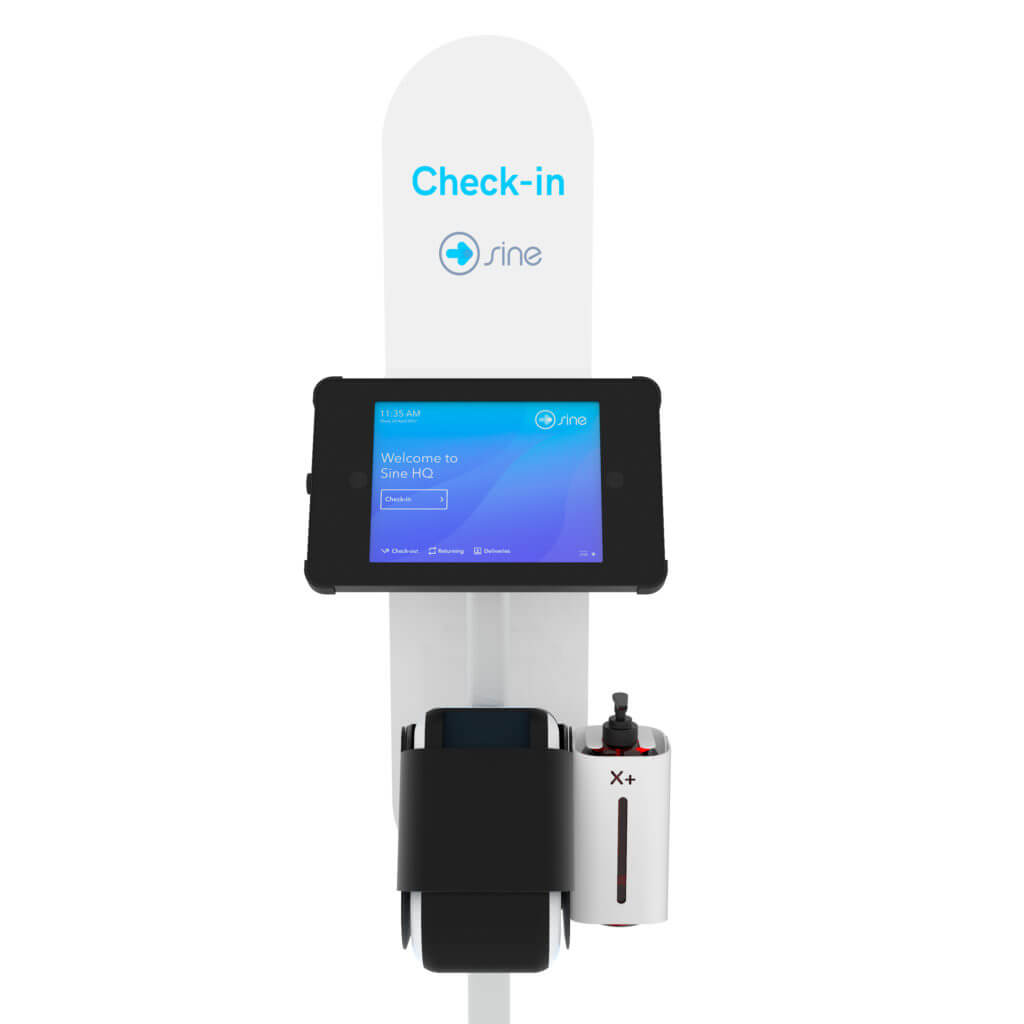 The All-in-One Kiosk fit allows you to mount the Sine Hand Sanitiser Station straight onto your kiosk. Creating a sleek, robust check-in area which places your hand sanitizer right in front of the visitor. Making the process of screening, checking in and sanitising hands, seamless.
This option is for companies who have the All-in-One Kiosk and the All-in-One Mini Kiosk.
The Wall Mount Hand Sanitiser Station
Have a smaller check-in space or want to keep the area clear? Our Wall Mount Hand Sanitiser Station will do the trick. Simply mount the station near your check-in kiosk or around your building to ensure that your workplace stays clean and protected from COVID-19.
The Wall Mount Hand Sanitiser Station is ideal for companies who have a secure desk stand, wall-mounted iPad or want to place more Hand Sanitiser Stations around their workplace.
Sine Safe for a contactless check-in solution
The Hand Sanitiser Stations are just one part of Sine's completely contactless solution. Sine Safe enables you to get your workplace COVID-safe. Find out more here.