Logistic professionals know better than anyone the value of efficient workflow, tracking and tracing technology, and identifying bottlenecks. A Visitor Management System (VMS) allows you to do all of those things to manage the people who come into your facilities.
That's probably one of the many reasons why the most recent Global VMS Market Forecast estimated the industry to be worth roughly $1.1 billion in 2021 (and expect it to grow to $2.3 billion by 2026).
But how can VMS technology benefit logistics companies? Here are 6 important ways:
1. A Visitor Management System can help keep your logistics operation sanitary
While the COVID-19 pandemic put the world on hold for so many, the logistics industry got even busier and more complex. Suddenly, everyone needed things shipped more quickly and delivered more efficiently while trying to avoid contact at the same time.
A 2021 Entrust survey, "Pulse Check on In-Office Security for Hybrid Work Models," highlights the use of a VMS for creating a more hygienic, no- or low-touch work environment. Across 10 different countries, 83% of workers and 84% of employers said that their visitor management solution helped them avoid the risk of spreading COVID-19.
2. A VMS can help you get proactive about security
Do you need visitors to sign confidentiality agreements, avoid taking photos, stay on the beaten path and away from intellectual property, or avoid certain secure areas in your facility? These can all be taken care of before they even step in the door. Visitors, such as contractors or delivery drivers, will know precisely where to go in a given facility and anyone who has been barred from the facility will be kept out or trigger a security alert.
By asking visitors to complete safety and security agreements before they check in, you can also store their agreement to abide by such rules in the cloud, referencing them if someone violates regulations or otherwise flouts regulatory compliance rules.
Over 92% of respondents to the Visitor Management Report said that their VMS created a safer environment. And that's crucial since 63% said that they felt visitors posed a risk to their data.
3. Your VMS helps your logistics operation stay compliant
Do your employees or visitors need special certification when entering certain parts of your building or operating machinery? Both groups can be managed with a VMS like Honeywell Sine so that ID badges only allow access to those who are cleared to enter certain areas or tools.
A VMS also avoids the need to have staff keep a constant eye out for guests, vendors, or contractors on site while allowing your logistics businesses to remain compliant with federal, state, and company guidelines about safety and data security. In fact, the 2020 survey also found that 75% of the companies they surveyed said their VMS helped them respond better to audit requests.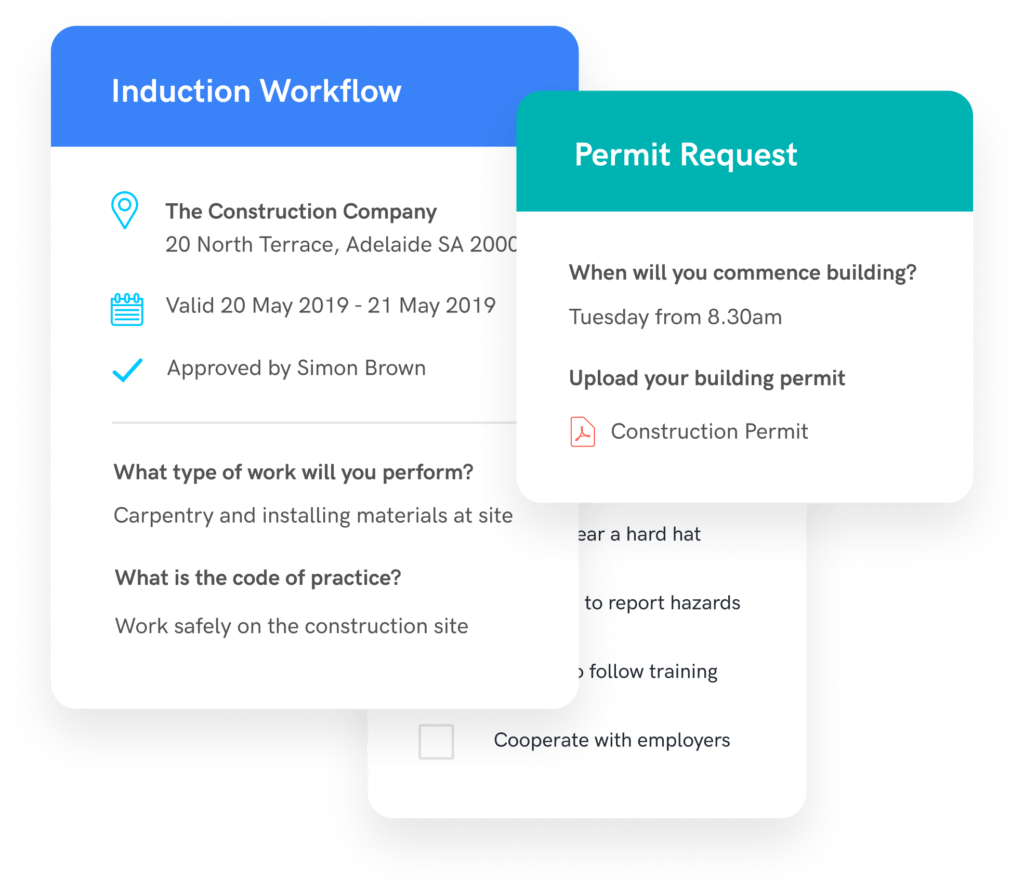 4. A VMS helps support logistics companies' hybrid workforce
Facilities will need to be flexible as parts of the workforce choose to work from home, at least part time. But visitor management software is ideal for hybrid workers since it allows data to be securely stored in the cloud and accessed from anywhere.
This lets your staff efficiently monitor surveillance and access control tools from their home offices.
5. Logistics companies can use a VMS to become even more efficient with less staff
Reception staff often get stuck handing out and filing paperwork with guests in instead of truly greeting them.
In a large logistics facility where time is money, it's crucial to allow people to access locations like shipping bays quickly and easily so they can get in and out. By allowing for pre-check in forms, not only do your customers, vendors, contractors, and other visitors get the greeting they deserve, but they don't have to waste time filling out paper forms.
6. The increased efficiency that comes with a VMS makes a good impression on visitors
In a 2020 Visitor Management Report, over 94% of respondents said their VMS increased their organization's efficiency, with 50% reporting that their check-in process was down to less than 30 seconds per guest.
But it's not about rushing people through the door – they said that the efficiency allowed them to make genuine connections with visitors. Another 27% said their VMS had a significant impact on people's perception of their brand as a result.
The logistics industry is no stranger to efforts to improve safety, efficiency, security and agility. And the best part about a visitor management solution like Honeywell Sine's is that it changes with your needs. You can customize it for your specific requirements, even if those change over time.
To learn more book a demo with our team today.