This blog post is the second in our 2-part series based on our recent webinar 'Achieving compliance safety, security in commercial real estate. In this installment, we explore how organizations can utilize visitor and contractor management system features to create a safer, more secure workplace.
Be sure to check out our free webinar.
---
Challenge: Need for tighter security both digitally and physically
Hybrid work has its perks; it enables employees flexible working conditions and helps keep them Covid-safe, just to name a few. However, as fewer people are filling up your office building, this may leave room for unwanted visitors to slip through the cracks and gain unauthorized access to your workplace. Threats that continue to impact workplace security and are likely to remain a concern for a long time, namely:
Tailgating: Tailgating is a physical security breach whereby an authorized person can gain access into a building. This usually occurs when the offender discretely following behind someone with authorization to gain access into restricted areas.
Unattended devices: as employees return to the office, some may be used to leaving their laptop open as they are usually just home by themselves or among family members. This can enable unwanted guests to sweep by and look through your documents and steal confidential company data.
Working from home cybersecurity risks: Employees may be connected to an unsecured WiFi network and personal devices, which may not have the same security measures built into the company network.
Challenge: Ensuring your visitors are who they say they are
One of the best ways to improve safety and security in the workplace is by mandating all persons on site wear visible credentials and carry identification. With such a policy enforced, it can be easy to spot anyone present in the facility who is not complying with these rules or wearing credentials. This can be especially useful in larger organizations, where it may be difficult for staff to be able to identify everyone on site.
For a visitor badge to be effective, consider some of the specific details that should be included on the badge and why:
Photo identification: Ensures that the badge has not been stolen and that the person wearing the badge is the same person identified on the badge
Visitor name
Visitor company
Visitor type: Different visitor types may be allowed in different areas of your facility
Check-in time and date: Visitor passes that are expired or no longer valid can easily be identified, ensuring nobody is 'overstaying' on site
Solution: Employing a powerful watchlist feature
It is important to implement a visitor management system with a powerful watchlist feature, ensuring extra precautions are being taken to reduce the likelihood of any security breaches or theft. At the same time, it is important to upkeep a positive customer service experience by being prepared to welcome important guests to your site. Visitor management companies like Sine paired with an effective watchlist feature can assign visitors to different watchlists. For example, it can be used to warn your reception staff of uninvited or suspicious characters.
Solution: Seamless access control integration
Access control is an integral element of your workplace security. It can be used as a secure way of providing quick and convenient access to authorized visitors whilst helping to prevent unauthorized people from gaining access to your workplace. Access control can help reduce the likelihood of people from breaking in, assists you with keeping track of your valuables, and can help you to comply with your company's security regulations or policies.
Sine integrates with high-quality access control platforms to add an extra layer of security to your site, namely:
Sine + Gallagher: Add another layer of security to your site where your visitors will be issued a unique QR code which they can scan at the Gallagher scanners to be granted access to your site. The QR code will be deactivated after the specified time of your choosing, or simply upon check-out. Suitable for businesses who place a large importance on on-site security, especially multi-tenant buildings, as it allows controlled access to certain floors and office spaces right from the Sine dashboard.
Sine + Inner Range: Provide access credentials from Inner Range's Integriti access control system to visitors and contractors arriving on-site, during check-in through Sine. Add a layer of security to your site by issuing visitors and contractors with a personalized QR code that can be deactivated after the duration of their visit.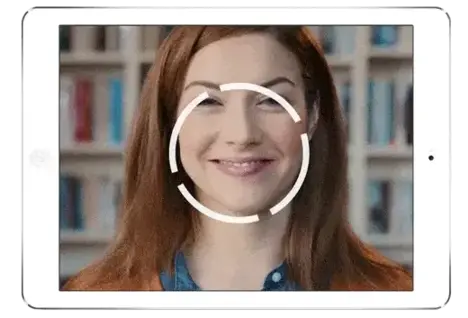 Solution: Facial recognition technology
Facial recognition, in a nutshell, is a way of recognizing a human face through technology. Sine already has this impressive technology implemented through face check, to help ensure all your visitors identify themselves. It uses biometrics to map faces and saves recognizable features as verified data, specific to that individual. Adding on, it compares this information against existing databases of recognized faces to see if there's a match. If you are a returning visitor, you will be able to check in and out of the site by simply showing your face to the camera, with no email or contact number required. This impressive technology is here to stay and will accelerate in the foreseeable future to enable touch-free solutions for workplaces. The facial recognition market was estimated at roughly five billion U.S dollars in 2021, with it forecasted to reach 12.67 billion U.S dollars by 2028!
This is just a small insight into how Sine can help companies enhance safety and security, without compromising on convenience. Find out more by booking a demo with our friendly team today!