Employee health screening shows workers you value their wellbeing and want to create a positive, healthy work culture. While health status is certainly a private matter (and HIPAA requires this data to be kept private unless it's being used by healthcare providers), businesses know that they play a big part in employee health.
By screening employees, companies can implement more effective workplace wellness programs and save money in the long term on their health insurance expenditures by helping employees identify potential problems early. Of course, COVID -19 has thrown a wrench into that plan, but don't worry. We've outlined everything to know about employee health screenings and even created a downloadable COVID-19 employee screening template you can use to help usher a safe, confident return to the office.
Let's dive in.
What is an employee health screening?
Employee health screenings involve a set of tests and other assessments used to identify disease and other health risks to improve overall wellbeing among staff. They have obvious benefits for employees, but employers benefit from them too. Healthy workers come to work more often and tend to be more productive. Identifying disease early with regular screening can also avoid costlier treatments down the line.
Since healthy employees are a valuable asset to any organization, employee health checkups are becoming popular with many forward-thinking employers. Creating a healthier workplace can pose a significant challenge for employers, as we saw in the early days of COVID-19. However, regular office health checks and robust employee health assessment programs can raise awareness of health issues, identify problems, track compliance with new health mandates, and promote a healthier lifestyle for all staff.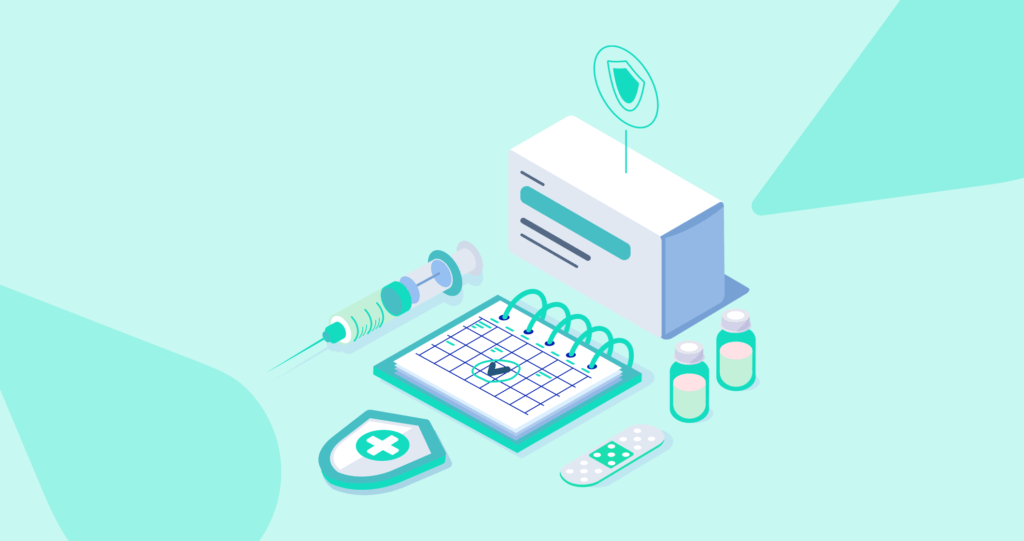 Why are employee health screenings important?
You can't put a price on workforce health, and employers know they play a big role in employees' access to screening and wellness programs. Any initial expenditure is typically made back in the reduction of long-term costs as well as the reduction in pay for temporary replacement workers, sick pay, and lost productivity.
Offering these benefits to employees also helps create a culture of caring, which can boost worker morale and confidence in their company. It also allows people to consider early interventions for any health issues and provide mental health care for those who may not otherwise have access to it.
Health screenings can include annual check-ups, regular health monitoring, and lifestyle assessments. These can be done in medical centers, virtually, or on-site at pop-up events. Among the many different assessments that are included in an employee health screening are:
Blood pressure tests
Cholesterol and blood glucose tests
Kidney screening
Diabetes assessment
Urine tests
Measurements and vitals that assess lifestyle factors such as exercise, smoking, or other habits that can lead to poor health outcomes.
And now, everything from temperature screenings to rapid tests for COVID-19 can be part of a daily health screening when employees and visitors come to the office.
What should be included in an employer's COVID-19 assessment?
Some more comprehensive health assessments have been put on hold as resources have been redirected towards COVID-19 testing and vaccination recording. As employees return to work while variants continue to arise, testing is more important than ever in order to protect vulnerable staff and create a safe workplace.
If you work in a building that allows visitors (including contractors or delivery staff), you may choose to perform temperature screenings or request proof of vaccination. Sine visitor management and Workflows can record this information as well as offer anyone who walks into your building hygienic measures such as contactless check-in, touchless access via geofencing, and even daily or regular health screenings for employees who are coming into the office every day or less frequently if they have hybrid schedules.
Employers are permitted to ask employees to self-monitor at home before reporting to work, complete an online screening survey (if feasible) station employees at entrances to ask health screening questions; and even employ an "employee only" entrance to perform screening.
Because COVID-19 can so easily put others at risk, it is also legal to ask if someone trying to enter the workplace has experienced symptoms of COVID-19 and ask the following questions, according to OSHA:
Have you tested positive for COVID-19 in the past 10 days?
Are you currently awaiting results from a COVID-19 test?
Have you been diagnosed with COVID-19 by a licensed healthcare provider in the past 10 days?
Have you been told that you are suspected to have COVID-19 by a licensed healthcare provider in the past 10 days?
Asking for information about COVID-19 status is not a violation of HIPAA.
Using Sine to keep your workforce healthy and compliant
If you choose to collect proof of vaccination and manage approvals for people entering your facility, Sine's software makes it easy. For example, Sine Workflows can be used to pre-screen for and collect (or pre-request) COVID-19 vaccine information.
The system also auto-approves (or rejects) anyone who walks through the door that doesn't meet public health requirements. For employees who have been given some leeway in keeping up vaccinations and boosters, Sine can send reminders and remind them of mandatory workforce compliance measures and deadlines.
Flexibility and an intuitive interface allow managers to set up workflows easily as well as change their metrics quickly when new suggestions and mandates for COVID-19 compliance come out.
You can't automate health, but you can use these tools to track and improve it, improving your bottom line in the end and even recouping any up-front investment in sophisticated visitor management solution.
Book a free demo with the Sine team to help create a safe, confident return to the office today.