As a business returning to work, it's critical that you have the proper process in place to ensure that staff, visitors, and all those entering your workplace are kept safe from COVID-19.
Over the past few months, new regulations have been introduced to ensure that businesses are introducing these processes. Some of which include:
Limitations on the number of people within a workplace.
Proper signage needs to be visible.
A required amount of space between work desks.
Higher standards of cleaning and handwashing stations/ hand sanitizer placed around the office.
While these regulations and processes can be put in place easily, businesses need to be asking 'What more can we do to ensure the safety of our workplace?'. Making a safe workplace isn't the only challenge businesses are facing. They're also needing to convince employees that it's safe to return to work.
In this blog post, we'll cover the steps that businesses can take in order to restore confidence back into the workplace.
Develop a return to work strategy for your business
The first step is to develop a return to work strategy for your business. This will help you bring together all your stakeholders and ensure everyone is on the same page for how you will tackle this process.
In many regions, the situation is continually evolving. Depending on the current status of any outbreak or the risk factors that contribute to the likelihood of an outbreak, many regions are handling the rolling back of restrictions in different ways.
With this, comes the need for flexibility. It is best to start with an assessment of all the regions in which you operate or have employees located. Ensure that you consider:
the current restrictions in place;
any plans that have been released for how and when those restrictions might be wound back;
the past reactions of that government to outbreaks as an indicator for how future outbreaks could impact their plans;
the local infrastructure that may impact your employees' ability to perform their duties remotely.
Once you have assessed the factors that will impact your return to work, you can develop your plan. This will start with considerations for the most suitable approach, be it continuing remote work, a full-scale return or a hybrid work approach that combines the two.
Establish processes and procedures to handle your return
Every organisation is different. While it is assumed that the nature of the workplace will vary greatly across different industries, so too can there be such variations even between businesses in the same industry.
This is where your return to work strategy will help come into play!
You'll need to ensure you consider everything from the setup of your physical workplace environment to touchless solutions that help mitigate the risk of infection spreading and, most importantly, managing your employees to help ensure they remain healthy while assisting to alay any re-entry anxiety they may feel about returning to the workplace.
Get COVID-safe for returning to work
Sine has multiple tools and features to get your business ready for returning to work. That can help with keeping your workplace and people safe.
Use QR codes for a contractless visitor check-in
Reopening your workplace means that visitors will need to start accessing your workplace. As a business, you may have put the proper processes in place to account for your staff but have you thought about the additional people who may be entering your workplace?
To help account for the alternate visitor types, you can implement Sine's QR posters for all visitors to check in.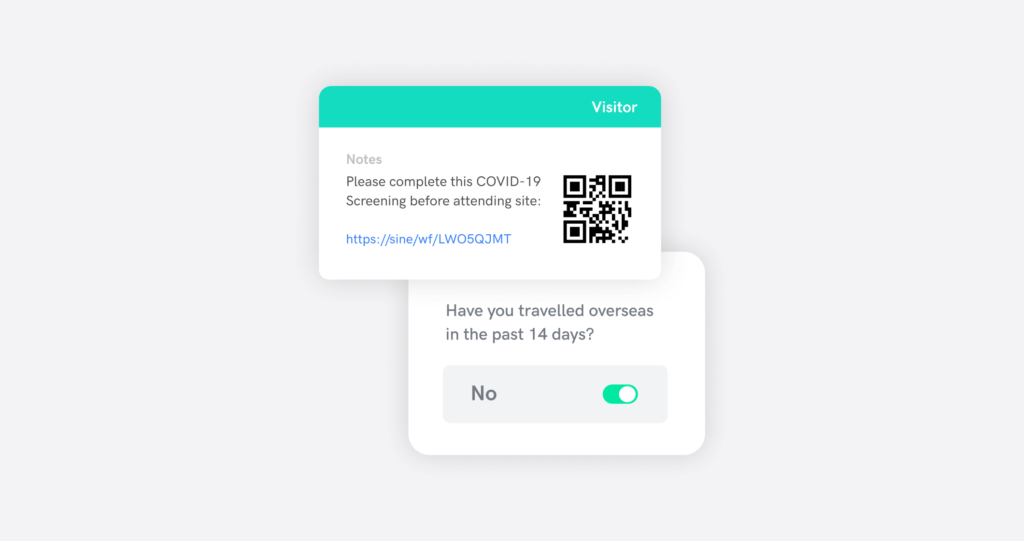 With Sine's QR posters, a visitor can enter your workplace and use the Sine Pro mobile app to scan the QR code on the poster. Once done they will be checked in and the host will be notified. Creating a completely contactless check-in experience for visitors.
If you're looking to go a step further, you can use Sine's Fast Track feature. This allows you to attach a QR code to all of your invites. This QR code can then be scanned at your workplace's Sine Kiosk, which will contactlessly check the visitor in.
Implement geofencing for a contactless staff check-in
While QR code posters work great for visitors, your staff won't be happy with having to scan a poster every day.
With the Sine Pro mobile app, you can automatically check your staff in when they enter the workplace. So there's no need for them to waste time with the check-in process.
Download the Sine Pro mobile app and send the link to your staff to get started with geofencing.

Prescreen staff and visitors with COVID-19 questionnaires
Your workplace needs to be as safe as possible when it comes to stopping the spread of COVID-19. Which means that you should be doing your pre-screening prior to a person returning to work.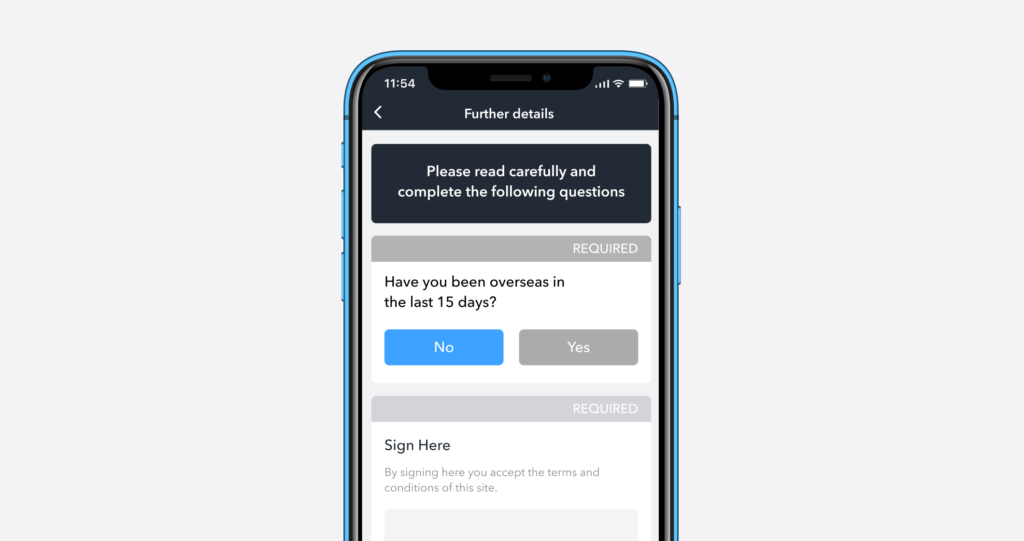 While requiring visitors and staff to complete COVID-19 questionnaire onsite is still necessary, with Sine, you can get these filled out prior to a person arriving on onsite.
This means that questionnaires can be attached to invites or 'required' when someone enters the geofence to complete a check-in. The responses can then be put into a pending state which can be reviewed before they're approved.
We created a COVID-19 symptoms image to include in your check-in forms, which you can download with our COVID-19 pack.
You can also see how to set up a check-in form.
Adopt a shift-based mentality with capacity management
After many people being in isolation for most of 2020, some employees are hoping to return to work but a workplace isn't set up to have proper distancing between employees. So businesses are opting to adopt a 'shift-based' mentality. Where they allow a certain amount of people to come to the workplace on alternating days.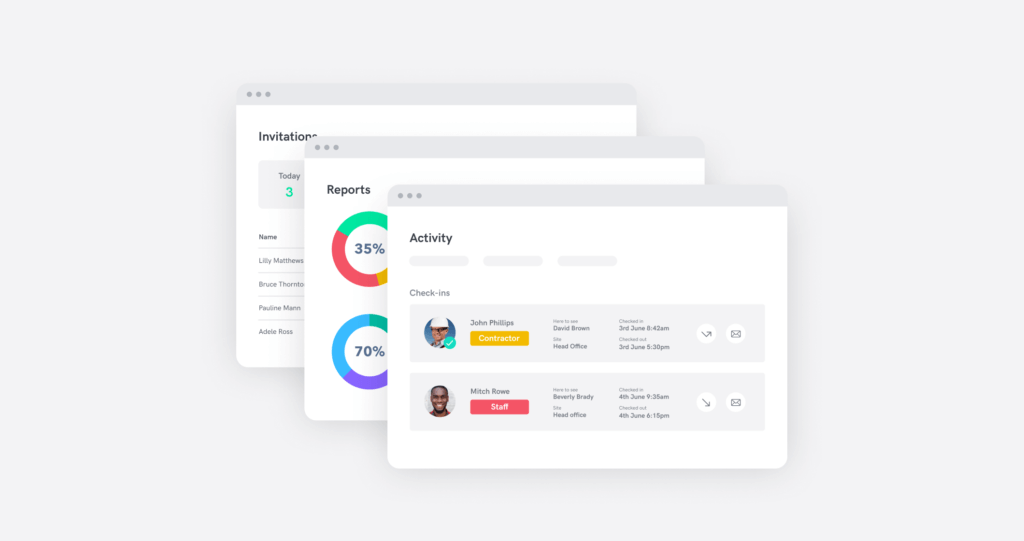 By implementing Sine, you can get an overview of how many people are at your site so you can manage the capacity limits. While also seeing how many people have visited the site and who is expected to visit the site.
Add hand sanitiser to your check-in
As a business, you want to make it as easy as possible for visitors and staff to sanitise their hands upon their return to work. This is particularly important if visitors or staff are required to touch anything during the check-in process.
While a business can place hand sanitiser at reception or at the check-in area, it's often missed so attention needs to be brought to it. The first step in doing this is adding a reminder during check-in to push people to sanitise their hands. The second step is making your hand sanitiser stand out. You can achieve this with Sine's branded Sanitiser Stations, which can either be attached to your check-in kiosk or placed around the office.
Find out more about our Sanitiser Stations.
Helping your business return to work
Here at Sine, we're focusing on creating a safer workplace for visitors, staff, and contractors. You can get started on your safer workplace by booking a Sine demo now.