The ongoing COVID-19 pandemic continues to present new challenges for businesses, with cases of the Omicron variant on the rise globally.
However, as the pandemic pushes into its third year, employees and owners alike are antsy to get back into the office. In fact, eighty-seven percent of workers are ready to work from the office in 2022, according to a survey by OnePoll, a market research provider.
Since the outset of the pandemic, our team at Sine has taken it as our duty to approach the situation with urgency, empathy and a dedication to safety. Sine's greatest priority is the health and safety of our customers, visitors and employees – including those of the companies we work with.
The long term economic impact of COVID-19 is yet to be fully understood, though early estimations placed the figure in the vicinity of more than one trillion dollars globally, however, To begin the economic recovery, businesses need to return to work, however, this can only be effectively achieved if the right protective measures are in place to help prevent further spread and outbreaks of the virus.
In line with our ongoing mission and commitment to our customers and to aid businesses in their safe and compliant return to work, we released Sine Safe in summer of 2020 and our Vaccination Tracker feature last summer.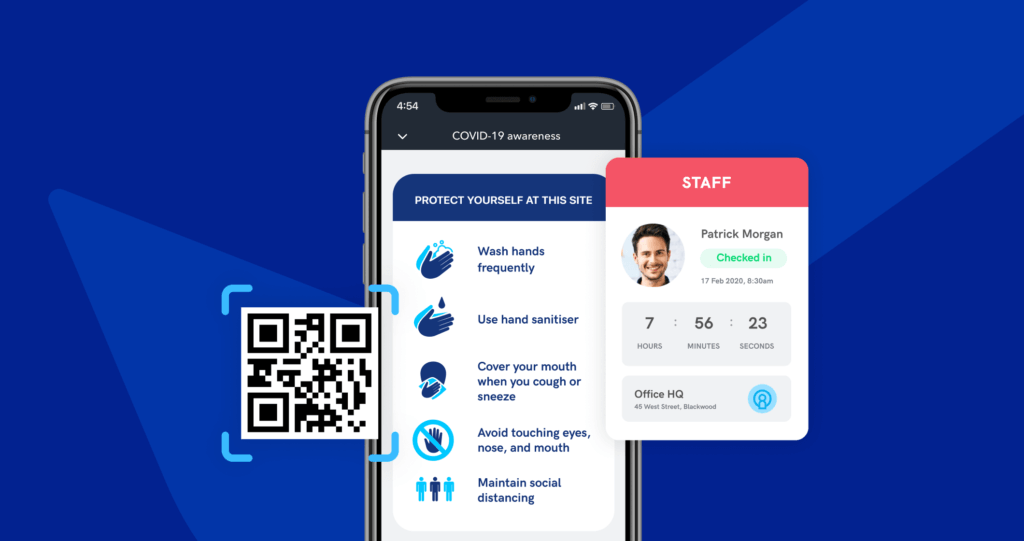 What is Sine Safe?
Sine Safe is a comprehensive suite of features and functionality designed to enable businesses and organizations across all industries to return to work and keep their workplaces safe. Manage all aspects of your organization's return to work, from initial screening of employees to contactless solutions for your workplace and ongoing monitoring of compliance with COVID-safe measures.
There are four parts to Sine Safe:
Prescreening visitors and employees before work begins
Contactless sign in options when arriving at the workplace
Double-checking COVID-19 information before entering the workplace
Monitoring and reporting workplace movements
Set up of Sine Safe is simple. Our implementation team have already worked with countless businesses to get their COVID-safe solutions up and running.
Using Sine Safe for staff returning to work
As companies reopen the workplace (for a first, second or even third time) and staff begin to return, it's important that you provide protection to both your staff and workplace. Let's run through the four main steps of Sine Safe and why they're critical to the safety of your business.
1. Pre-screening before work begins via mobile
The first and most important step of a return to work plan is determining who needs to come into the workplace and the appropriate screening measures to put in place. Sine Safe empowers you to prescreen all employees before they return to the office using Sine Daily Check, and ensure they meet your COVID-safe return to work policies before they come back on-site.
Send screening questions to all staff and track their responses in the live dashboard. From here you can approve and reject access requests and determine who is safe to return to the office.
2. Contactless sign-in when arriving at the workplace
One of the most significant risk factors in the transmission of COVID-19 is coming into close contact with an infected person. So too, the virus can survive on surfaces for hours or even days after an infected person comes into contact with that surface.
Sine Safe enables you to remove unnecessary contact with communal surfaces through contactless check-in for staff arriving on site. Trigger staff sign-in using QR code posters placed around your site or even automatically using a geo-fence set up around your workplace and the Sine Pro mobile app.
3. Double-checking COVID-19 information before entering the workplace
Using the Sine Pro mobile app, or even through an iPad or web dashboard, a COVID-19 check-in form can be triggered every time a staff member checks into the site.
Staff can be required to submit answers to screening questions as part of the daily sign-in process. This is also a great opportunity to confirm they have understood and are compliant with your COVID-safe policies.
4. Monitoring and reporting workplace movements
Ensure compliance with policies and swiftly contact trace in the event of a suspected case with Sine Safe. The platform offers comprehensive reporting and analytics, allowing you visibility over all staff movements in and out of your workplace. For large institutions, campuses or hospitals this can even be set up to track movements within different buildings or departments of your facility. This is the perfect solution for macro-level contact tracing.
In addition, you can view and monitor adherence with capacity limitations or any restrictions on the total duration of visits to your site.
Prescreening questions provide the greatest level of protection for companies, they require both Sine Core and Workflows. These questions can be incorporated into the check-in form when staff have arrived on-site, for customers using only Core.
How Sine can help you collect and verify proof of COVID-19 vaccination before check-in
As more organizations begin to enforce vaccine mandates for workers, contractors and visitors, it is essential that there are systems in place to enable health pre-screening and verification of COVID-19 vaccination status before they arrive on site.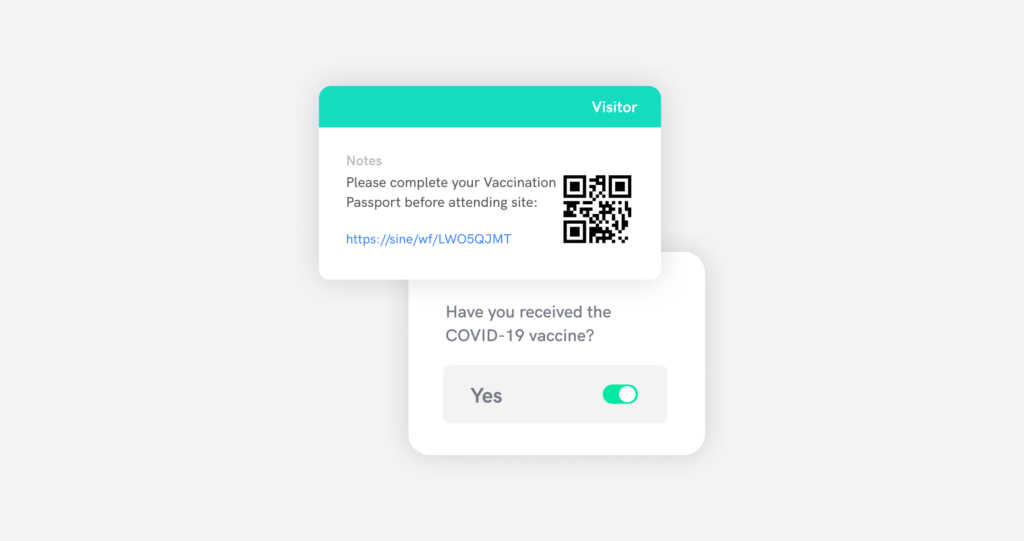 Companies will also want to ensure their documentation is up-to-date with all compliance. Luckily, with Sine, screening and verifying that people entering your site have been vaccinated is simple.
Sine is a leading mobile workplace and visitor management technology with a focus on occupant safety, health and efficiency. From managing varying occupancy levels to pre-screening visitors and contractors before arrival, Sine helps facility managers and operators create a simplified, safe site experience that offers myriad integrations with access control systems.
Here's how Sine can help you automate compliance and protect your workforce:
Prescreening workflows and 'Vaccination Passports'
Sine Workflows is a powerful compliance tool to pre-screen and gain essential COVID-19 vaccine information. This includes collecting and uploading immunization documents from your employees, visitors and/or contractors before they check in. You can put a person's access requests in a 'pending' state, and approve or reject them on a case-by-case basis or automatically by vaccination status.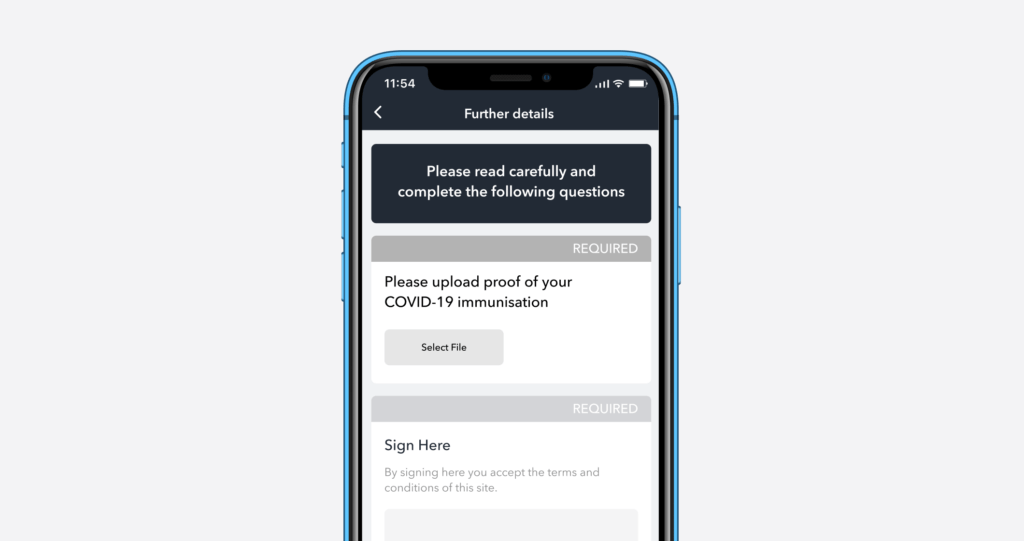 Set up your 'Vaccination Passport' screening workflow and ensure everyone entering your workplace site has provided valid documentation of their immunization. The system will automatically flag those who have not done so and bar entry if needed.
You can select automatic approvals for valid workflows or, for added compliance assurance, have submissions manually reviewed and approved to ensure valid proof of vaccination is supplied.
With Sine, you can create COVID-19 vaccine check-in questions for your visitors and contractors to keep your facility safe. You'll receive notifications when your visitor arrives and choose whether to 'accept' or 'reject' them with custom messages.
Managing validity of immunization records for multiple vaccine doses
With most of the COVID-19 vaccines developed requiring two doses to be completely effective, it may be more complicated to track effectively.
With Sine Workflows, you can choose a validity period for the person to respond and upload proof of vaccination. Workflows will automatically expire once a user reaches the date of their projected second dose, prompting the user to update the workflow with proper documentation of their second vaccine administration.
The flexible settings within Sine also allow you to set up and share workflows for any scenario within minutes. As circumstances and restrictions change, you can quickly update your workflows to suit, and help keep your site protected. Sine helps makes it simpler to collect proof of vaccinations and manage approvals for people entering your facility. Whether it's self-certification and declaration, or monitoring and compliance reporting—Workflows can be tailored to your needs.
How to get started for free with Sine Safe + Vaccination Tracker
Sine Safe is available to all existing Sine users, and our Vaccination Tracker feature is available to all Sine Workflows users. Sign up now to try the full Sine solution suite and keep your workplace COVID-safe.
To learn more about Sine Safe + Vaccination Tracker for your business, book a demo and our team will take you through everything you need to know to get started.