Workflow automation can be an essential time-saving and compliance tool. Companies with a sound workflow management system can eliminate tedious data entry tasks and free up employees for more meaningful work. And the best part is that a good automation system can be faster and more accurate to boot, so everybody wins.
Below, we'll look at what workflow management is and whether it can help your company run more smoothly and save time.
What is workflow automation?
Generally speaking, workflow automation is precisely what it sounds like - allowing a system to run a set of tasks based on the rules you set. Once a manager establishes the system's rules, workflow software can launch operations such as sending emails and reminders, posting pre-written marketing materials, sending documents to the right recipients, assigning tickets to team members, filing away information, and much more - all without human intervention.
Multiple departments can use workflow automation systems, including product managers and engineers, sales and marketing teams, security, human resources (HR), and information technology (IT). These systems also make processes more transparent than ever and can be altered whenever a business process needs to evolve.
For example, let's say you collect identification documents from everyone who enters your workspace. A person or a software system may need to read or scan those documents, ensure they record a guest's name, date of birth, or other credentials, and then approve entrance based on that information.
This became more complex at the beginning of the COVID-19 pandemic, and business processes had to evolve to keep workplaces safe. For example, many facilities had to modify their workflows in 2020 and 2021 to implement new building entrance requirements such as body temperature monitoring, mask-wearing, vaccine status, and the building's social distancing needs. That required new rules for entrance as well as collecting and processing new kinds of information (and even upgrading and adding tools such as facial AI and electronic thermometers).
Research has shown that 40% of productivity is lost to multitasking and task-switching. Automation allows data processing to be streamlined, centralized, optimized, and transparent. In other words, automation makes work easier for employees and more cost-effective for companies, regardless of whether it's being used for a marketing drip campaign or job site management in another industry. In fact, companies leveling up to cloud automation have seen a 15% year-over-year revenue growth.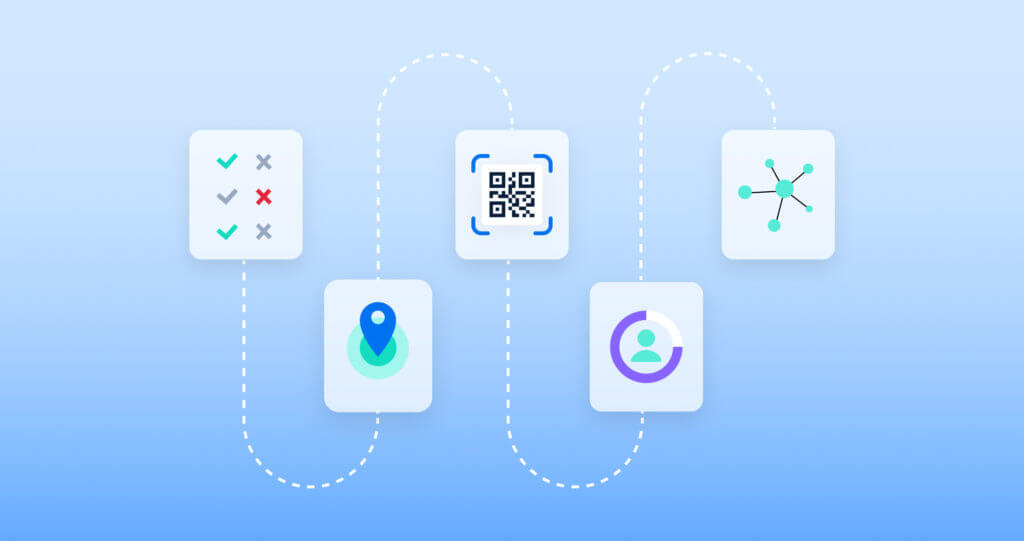 What are workflows and why should you automate them?
All business teams have workflows. They're simply the set of steps people use to get a task or project done. When it comes to business workflows that can be automated, there are three main types: sequential workflows, state machine workflows, and rules-driven workflows.
A sequential workflow works like a flow chart, and there is a step-by-step process which is always repeated in a linear fashion.
A state machine workflow is similar to a sequential workflow but can go back to an earlier step in the sequence depending on the situation.
A rules-driven workflow is more complex and can follow a set of rules that dictate next steps. Minimally, you can program a workflow management system to automate steps according to a set of "if," "then," rules (for example, if X is true, then move to step Y).
When workflow involves a group of colleagues, it involves a few different steps (even though they're not always obvious or discussed).
Workflow management typically requires:
Agreeing on what needs to be accomplished
Planning the steps required to get the task completed
Assigning tasks to team members
Planning the steps is key, and requires organization, documentation, and tracking as progress is made. Besides keeping a team on track, laying out steps also creates transparency and a sense of ownership for specific tasks among team members. This is true whether you're putting together a presentation involving multiple departments or managing a large worksite where products are loaded onto trucks and sent to different locations.
In a team environment, a manager often oversees the workflow and its optimization. But one of the most powerful tools a manager can have is Workflow Management Software that automates the repetitive tasks. These tasks can be anything from data entry to document processing.
Automating processes with workflow management software
Let's think about an active construction worksite. It's a potentially dangerous place, so the people allowed on site generally have to undergo safety training and have the credentials, permits, or other permission to be on a specific site. For everyday employees, entrance to the site would be a simple automated sequential workflow allowing them to swipe in and get to work. First, they swipe in; then, the system ensures their credentials are complete and up-to-date and records their entry while granting them access to the site.
But not just anyone can walk off the street onto the site. For liability and security purposes, it's often necessary to ensure new people - such as contractors - have the right qualifications, permits, etc. In this case, a state machine or rules-driven workflow is necessary to stop the entry process until the proper documentation is submitted. At best, they might be able to swipe into a front office with a photo ID but be directed to an area where they can have other documentation assessed.
This is where tools such as Sine's Workflows excel. Sine offers workflow management integrations that enable worksite managers to collect the right materials for entrance to a worksite and do this in advance so that all site permits and access requirements are in order when a visitor arrives. There's no need to chase anyone around for paperwork during work hours. Better yet, Sine users can set up multiple workflows to process workers and visitors and monitor it all from one dashboard - without the piles of paperwork.
Does your company need workflow automation?
Workflow automation can apply to a wide variety of tasks. In addition to helping you manage a worksite, workflow automation can do any of the following (and more):
Help you follow up with potential customers who have downloaded your sales materials online
Create new work tickets in the system when employees contact the IT department for help
Help manage the flow of documents around your office, delete duplicates, and safely store data in the cloud
Move expense reports through the system, alerting employees to the need for more documents
Process job applications and manage employee onboarding
The possibilities are endless. If you have a set workflow and someone who performs repetitive tasks, chances are they can be automated to some extent.
Stay compliant with Sine Workflows
Any worksite that houses valuable resources has safety protocols and is likely regulated by rules and laws designed to ensure employee well-being and property protection. And when things go wrong on-site, those incidents need to be reported. By automating workflows, managers and executives get peace of mind that there's a system checking for valid credentials in real-time, a system potentially preventing problems (or recording abnormalities that need to be resolved later), and ensuring that workflows are correctly executed and consistently across all situations. In other words, workflow automation helps companies stay compliant without having employees spend valuable work hours chasing down and authenticating documents or performing other repetitive tasks when their time can be better spent improving productivity.
If you're interested in learning how Sine can help your business maximize productivity, contact our team to learn more.